[line]
Crash Course: Cycle Core with Colleen is challenging – expect to sweat but don't expect a high energy instructor, loud music, or lots of yelling. Her calm voice and slow, deliberate instructions were a sharp contrast to the killer tabata cycling workout. The entire sequence was projected onto the screen so the class could follow along. After 50 minutes of spinning, the sweat fest continued downstairs for 20 minutes of core work. Many of the exercises were targeted for cyclists, and it was refreshing to not be led through the typical sequence of crunches and flutter kicks. Off Road is the latest addition to DC's indoor cycling scene and also offers boxing, TRX, bootcamp, and combo classes like cycle core. Click here for a full schedule.
[line]
[left]where? 905 U Street NW, green/yellow line at Shaw and U Street
bring? water bottle, bike shoes
perks? towels and filtered water. look and spd pedals. small studio with personalized feel.
sweat score? 10 out of 10 [/left]
[right]wear? for the spin classes, I always recommend spandex bike shorts.
how much? drop in spin class is $20
instructor? colleen[/right]
[line]
Studio
Off Road opened its doors on October 15 and is the first spin studio in the U Street/Shaw area. According to its website:
Off Road was started to bring something new to Washington DC. Our owners are long-time DC residents with a passion for the community and cycling—both indoor and out. After many conversations about what was missing from their gym memberships they created a studio that raises the bar and brings something new. Off Road blends the benefits of the freedom of paying as you go and the best available equipment, technology and instruction. We offer a neighborhood studio that focuses on the client experience from the moment you walk in the door. This isn't your corporate gym or chain. This is individualized attention and high-energy workouts.
The two-floor studio is clean and bright, with great views of the U street corridor and the Washington Monument from the upstairs spin room. Every inch is dedicated to class space – there are no locker rooms so plan on changing in the bathroom. The the waiting area is anywhere on the first floor that's out of the way of the ongoing class. This is a little awkward, but watching other students sweat it out before you start your own class is good motivation. Bring your own water bottle and fill it at the water cooler on the first floor. Cubbies for storing belongings are on both floors. Towels are provided on both floors.
The first floor is dedicated to TRX, boot camp, boxing, and core classes. A steep set of stairs leads to the spin studio, which occupies the entire second floor. One of the most unique features of Off Road is the projection screen used for "virtual rides." This is awesome for those of us who tend to get bored during spin class (guilty).
Class
The Cycle Core class is 50 minutes of spinning and about 20 minutes of core work. This particular evening was focused on tabata sequences and was incredibly challenging. I think the instructor mentioned that tabata is recommended for "well conditioned athletes only." Not exactly for the faint of heart. Like all spin classes, however, it's only as challenging as you make it. That resistance dial won't turn itself.
The core segment was downstairs. Be advised – your legs will be shaky and the stairs down from the spin studio are steep. Hold on to that railing!
I'd say the core element of this combo class could be a bit more intense, but I loved the variety of balance, stretching, and core exercises. It was enough to make me feel it the next day (ouch!). The instructions were hard to hear over the music and folks talking in the "waiting room" area, but with core exercises it's easy to follow along visually.
Equipment
Because the studio is brand spanking new, so is the equipment. The spin bikes are some of the best and most realistic I have used. Pedals are compatible with both Look and SPD clips if you want to wear bike shoes. Cages are also an option for students who want to wear sneakers. The bikes also have back lit displays that give all sorts of stats like wattage, cadence, and calories burned.
Instructor
The instructor for tonight's Cycle Core class was Colleen. From my experience, she doesn't seem like the high energy, yell-in-your-face type. Her delivery is slow and deliberate, and she provides lots of technical tid bits to keep your mental gears turning during class. That doesn't mean she's a walk in the park – I was dripping in sweat within the first 10 minutes and it only got worse from there. One of my favorite phrases that she said during class was, "you may feel sensations of breathlessness. That is normal." She must have heard my huffing and puffing during the third tabata session. Not sure I'd refer to it gently as breathlessness rather than omgstopthisbike. But that's just me.
I did appreciate the fact that she created a learning environment and I walked away feeling like I had learned something. Future spin classes won't be the same now that I know more about what my target wattage and cadence numbers should be. I wonder if this is an instance where ignorance is bliss, though.
More information about Colleen from her bio on the Off Road website: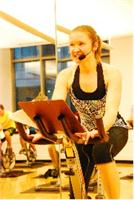 What to expect in my class: Rock, Alternative, Indie, Hip/Hop, Top 40 & Electronic are all fair game, but No Country. A place to achieve your fitness goals. Lots of intervals (including recoveries!) and building time in the saddle. Some mental chewing gum-ideas you can roll around in your head while you're attacking those rolling hills. Theme rides based on power, heart rate, or events like Tour de France and Giro d'Italia.
Favorite Song: Lose Yourself by Eminem – "you can do anything you set your mind to"
Passion: Indoor Cycling, slacklining & coffee
[line]
Crashed a class at Off Road? Share it!
[line]